WHAT GRASS IS USED AT THE WORLD CUP?
 Platinum TE™ Paspalum is the exclusive turfgrass of the 2022 FIFA World Cup Qatar
The playing surfaces of all eight stadiums and all 81 training sites of the 2022 FIFA World Cup Qatar are licensed and certified Platinum TE Paspalum from Atlas Turf International.
This is, quite likely, the first time in World Cup history that all playing surfaces feature the same turfgrass. Another first: never before has the World Cup been played on seashore paspalum.
Total estimated area of Platinum TE Paspalum at the 2022 FIFA World Cup Qatar = 178 acres (72 hectares)
Planting Process
Before the stadiums were ready to be grassed, nurseries were prepared on the stadium periphery. Atlas Turf International was the exclusive supplier of Platinum TE Paspalum stolons (sprigs) for the 2022 FIFA World Cup Qatar.
The stolons were planted in the prepared nurseries and allowed to mature as the stadiums were constructed.
When each stadium was ready, Platinum TE Paspalum was harvested from the nursery in big sod rolls and planted in the stadium.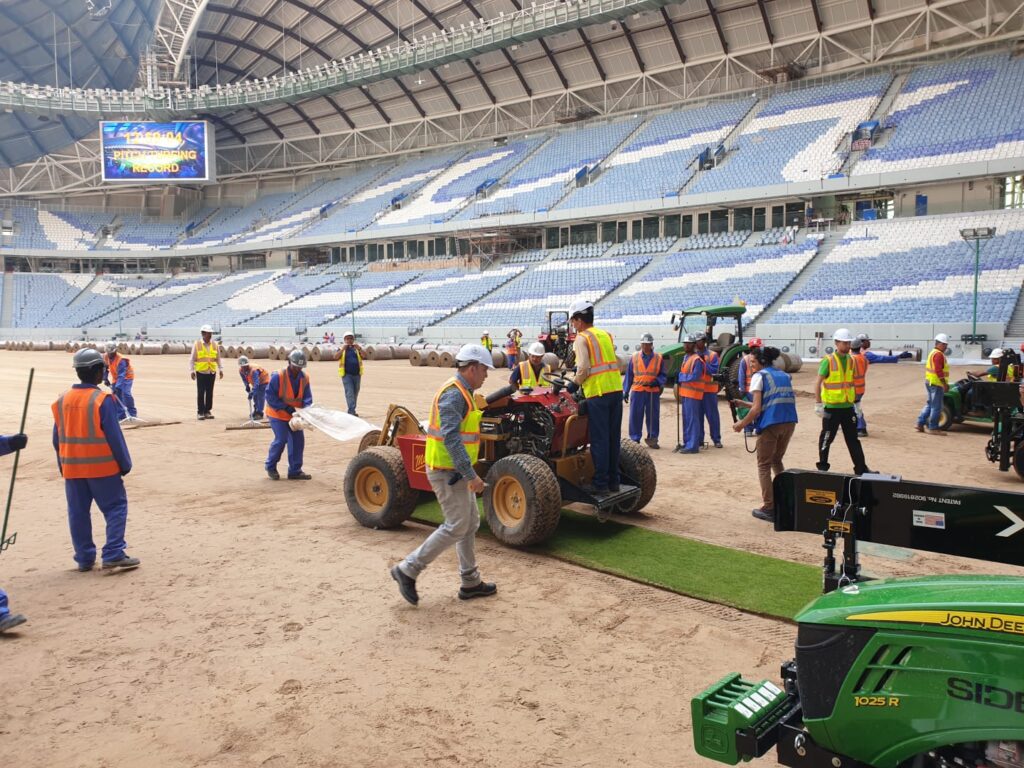 Maintenance
A standardised turfgrass maintenance program, crafted by Aspire Zone, is being implemented at each stadium and practice field for continuity. The height of cut on each field is consistent.
Daily measurements are taken at each pitch to determine the following:
Advantages of having ONE turfgrass for all venues
Simplified agronomic program allowing for less cost, less labor, less confusion
Consistency among the maintenance crews at all venues
Continuity for teams and players

About Platinum TE Paspalum
Platinum TE Paspalum is the market's most advanced vegetative seashore paspalum variety, available in sod form (big rolls or slabs) or stolons (sprigs).
Developed in 2007 by renowned plant breeder Dr. Ron R. Duncan
Platinum TE Paspalum is patent protected.
Platinum TE is the turfgrass of choice for over 300 golf, sports, and landscaping projects in 30 countries.
In addition to the World Cup, Platinum TE Paspalum has provided the playing surface for PGA Championships, Major League Baseball (MLB) and multiple World (Baseball) Series, US Major League Soccer, and the National Football League (NFL).
As a licensed and certified product, Platinum TE Paspalum is produced by a select group of growers. Atlas Turf International has the exclusive licensing rights for Platinum TE Paspalum in Qatar and many other countries.
Why was Platinum TE Paspalum Chosen for the 2022 FIFA World Cup Qatar?
Extensive testing of paspalum, bermudagrass, and zoysia varieties was conducted over almost four years to select the optimal turfgrass for the 2022 World Cup. Testing concluded that Platinum TE Paspalum outperformed the other turfgrasses in:
Durability – stronger tensile strength
Shade tolerance – greater ability to grow in low light conditions

 

(Note: due to the design of most stadiums, including those in Qatar, areas of the field are in the shade for extended periods of each day. Paspalum requires a shorter duration of exposure to light to maintain growth and store carbohydrates from photosynthesis than other turfgrass species.)
Recovery – rapid regrowth from injury
Establishment and grow-in
Sustainability is unmatched as Platinum TE Paspalum:
requires lower inputs, including fertilizers
offers reduced disease pressure and requires less pesticides
delivers exceptional salt tolerance and thrives using TSE irrigation
features extreme heat and drought tolerance and requires less water
is low light tolerant and thrives in shade for extended periods of time
Playability is enhanced with Platinum TE Paspalum through:
rapid recovery from injury
versatility allowing a wide range of mowing heights
The Beauty of Platinum TE is a bonus:
superior striping with as few as one mower pass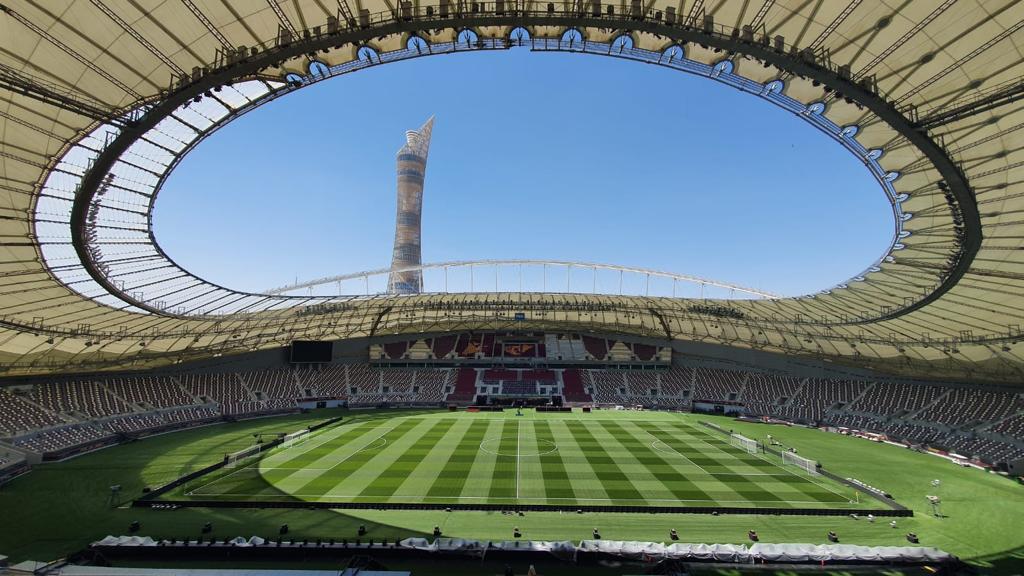 Overseeding
Each stadium and training site at the 2022 World Cup is overseeded with perennial ryegrass according to FIFA requirements. The perennial ryegrass chosen for the 2022 FIFA World Cup Qatar is PureSport™ Premium Athletic Brand from Pure Seed, a leading producer of seeded turfgrass products. Pure Seed has breeding facilities in Oregon and North Carolina, USA.
PureSport is a proprietary mix of top-performing perennial ryegrass varieties custom blended for each project. For Qatar, the mix is comprised of varieties that have proven effective in the region, demonstrating superior heat and drought tolerance, disease resistance, wear tolerance and quick recovery from injury, dark green color, and rapid germination.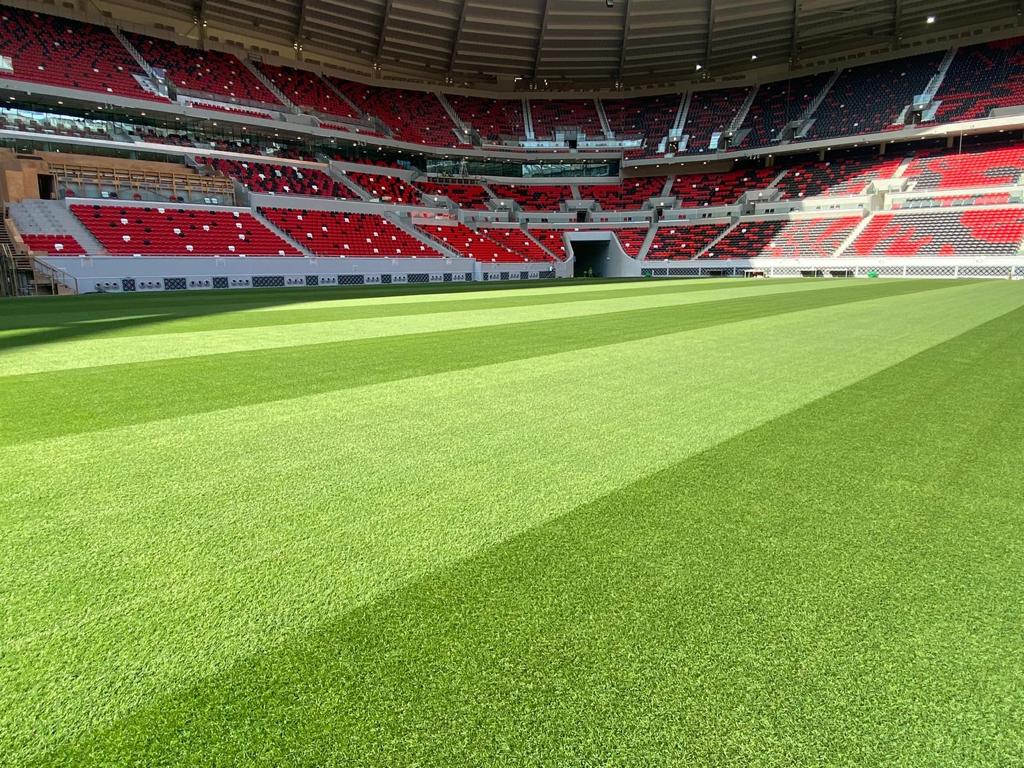 Reasons for overseeding at the 2022 FIFA World Cup Qatar
The 2022 World Cup occurs during Qatar's "winter months."
Minimizes effects of wear
Adds to surface hardness (gravities)
Process of overseeding
Planting a cool season seeded species into an existing warm season stand of turfgrass during the cooler months to fortify the turfgrass during the less active growing season
In the Qatar "winter," both grasses will co-exist, forming an uber-dense playing surface.
At the end of the season, as temperatures rise, the overseeded perennial ryegrass dies back as the existing warm season turfgrass re-enters its most active growing season.
Source
https://www.platinumte.com/2022-fifa-world-cup-qatar-turfgrass-fact-sheet/